Back to Blog
One of the problems with running an ecommerce business is stock management, especially if you sell through multiple sales channels.
At Switchplane, we have helped different companies with stock management. We know you have manual processes for managing stock and as your ecommerce company grows, so does the amount of work you have to do.
Here is an example. You could be selling through different platforms to both customers and wholesalers. This could include:
Shopify shop for customers
Shopify shop for trade
NotOnTheHighStreet.com store
John Lewis
Dropshipping store
How do you as an ecommerce company manage stock over all of these platforms? The simple answer is you have to check five different places for information, then input them into a spreadsheet - which is time consuming and tedious.
This information is also not integrated with your accounting software, such as Xero. The underlying problem is you have no way to accurately manage stock which is in real time.
If you have a problem like this, what you really need is a unified sales reporting platform which imports all of your orders into one place. Then you need a simple inventory system which allows monitoring or current stock availability and re-ordering levels.
Below we have outlined some solutions on how you could combine all the data into one system.
Look at platforms like Zapier, which is a middleman integration platform. This is cheap in the short term, but can open up problems if there are lots of different platforms trying to talk to each other.
Using webhooks to grab each event from platforms like Shopify as it happens and feed this data into your accounting software, such as Xero.
Query the Shopify API on a daily basis to pull in order and transaction data and this into your accounting software.
Create a bespoke stock management platform with Switchplane. We can build something to suit your actual businesses needs. This could be an all in one platform which you can run your business from.
Here is an example of a Sales List, similar to what you would see on Shopify. The difference here is that it's showing all orders merged from all sales channels. To achieve this, we would create an be an import facility for each sales channel to bring all orders into a single workflow.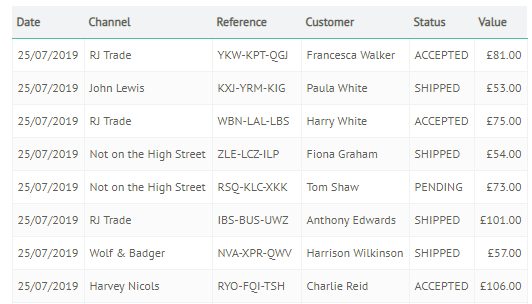 Below is an example product listings from an inventory system. We would give users the ability to edit product descriptions, cost, image, and SKUs, as well as implementing stock control.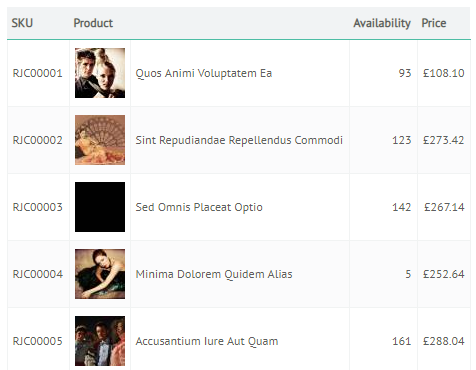 The examples above are things that Switchplane can help you with. Get in touch now if you want to know more about how we could help your ecommerce company.
hey!
We build custom software with your team, for your team. Our apps and web platforms bring about meaningful change for businesses across the UK.
Find out more about what we do