Back to Blog
One of Switchplane's core values is 'Customers as partners'. As well as providing you with great service, this also means working with you to maximise your software development budget to its full potential. Every minute we spend working on your project should bring you value in some form.
There are some things that you can do to help us achieve this, which we've listed below:
Be prepared

To steal the Scout's motto, being prepared for meetings is essential. Our meeting time with you is invaluable to us.

Think in advance about your priorities. What feature(s) will bring you the most value next?
If you aren't the expert in a particular area of your business that we're working on a feature for, you're welcome to bring along someone who is. This will strengthen the planning process, as we can hear what's desired 'straight from the horse's mouth'.
We love hearing your feedback on the work we have released; bring this along so we can iterate on your project in the next round of development.

Test thoroughly

We test code and functionality as much as we can. However, you have the fundamental knowledge of what you expect to happen and any edge cases with your processes. You'll have the best understanding of whether the feature works for you and your team. Therefore, we'd advise:

Testing any new features on your staging site when they are released
Asking anyone on your team who will be regularly using the feature to test it
Sharing any examples of the feature not behaving correctly and advising us of what it should do in a particular situation.

Then, when we release the feature to the live site, it should integrate seamlessly with your workflows.

Report issues accurately

Last but certainly not least, accurate bug reporting helps us deal with issues as swiftly as possible. Should an issue arise, please provide us with details of:

What you tried to do
What you expected to happen
What did happen
A screenshot of the issue or error message
The URL you are on when you experience the issue

If you can cover these points, we should be able to get you back on track speedily (and not burn valuable time that could be used towards new features instead). Providing this information also means solving the problem isn't reliant on your Project Champion being available, as any developer can quickly have the context they need to solve it. And, if your Project Champion is available, it'll help them get into the right headspace and to the root of the problem asap.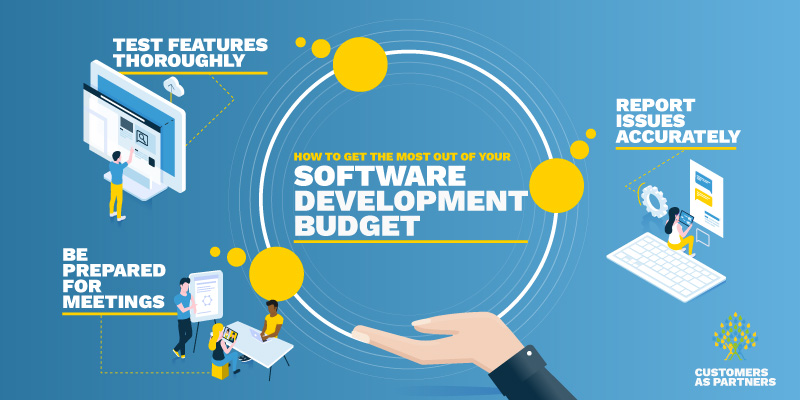 Aside from these Sprint-by-Sprint matters, over the longer term, we'd also advise looking into the government's R&D Tax Relief Scheme, which effectively gives you a 25% discount on any applicable research and development costs. Your business could benefit from the software solution, its associated competitive advantages, intellectual property, and efficiency improvements with an attractive 25% off the price tag. We've got more on this here.
If you have any questions on how you can maximise your budget better, please ask your Project Champion at your next meeting. We'll always welcome your feedback on how we can make improvements to suit you too.
hey!
We build custom software with your team, for your team. Our apps and web platforms bring about meaningful change for businesses across the UK.
Find out more about what we do