Back to Case Studies
James is Head of Web Engineering at the music technology company, Spitfire Audio. They work with the best composers and artists in the world, like Hans Zimmer, and record at the world-famous Abbey Road Studios to create virtual instrument sample libraries.
In 2012, Spitfire Audio had a very piecemeal setup. They ran their business using many pieces of off-the-shelf software. James wanted everything in one place to give users a consistent, professional experience.
We helped James to create an e-commerce website, with a complex shopping cart and robust digital downloads app. Plus financial and marketing integrations to help run the business.
Ecommerce website
Integrated user experience
Business tools and reporting
...and much more
What could we do for you?
Before Switchplane...
James was like you.
His company was growing fast. Spitfire Audio wanted to create a comprehensive platform with everything in one place.
Yes, they had some solutions. WordPress for their CMS. A combination of WorldPay, Ejunkie and PayPal as their shopping cart. Continuata for file distributions. Mailchimp for email campaigns.
But this was hard to manage and wasn't great for their users. Tech-savvy customers buying high-quality digital sound products wanted a good experience.
So James got in touch with Switchplane.
Working with us
We built what James wanted.
We worked with James to find Spitfire Audio's top pain points and got to work on his priorities. We started by building extensive shopping cart functionality.
The shopping cart is smart. The Marketing team can set product and site-wide discounts for their campaigns. If a customer has a certain item in their collection, it suggests similar products at a discount.
The marketing campaigns are very successful. The cart (and the whole platform) responds to huge peaks in customer demand at busy times. This is essential over Black Friday weekends, for example.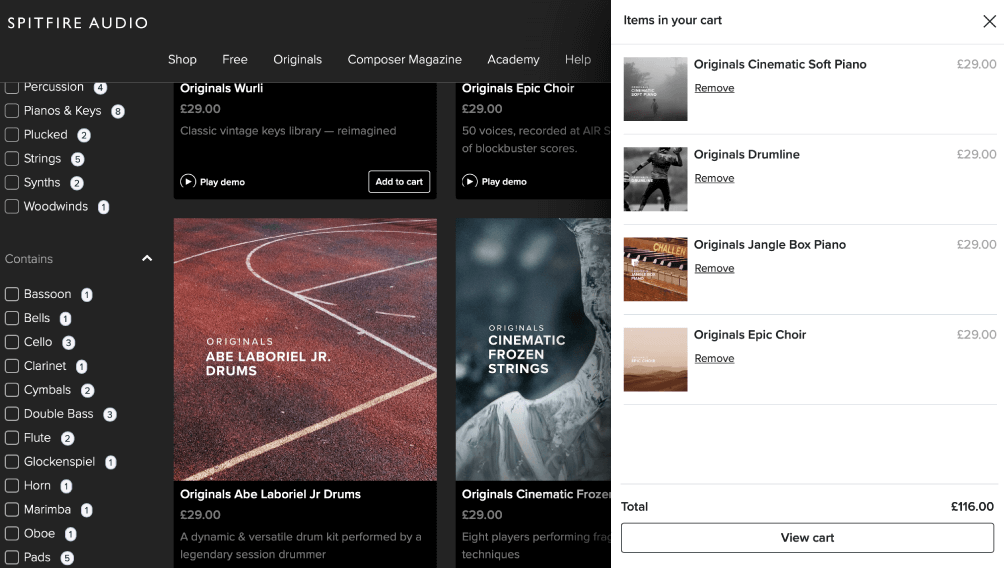 Digital downloads made easy
To improve customer experience
Distributing huge files is a challenge. Especially in a way that keeps the files safe and non-shareable.
We created a digital downloads application. We focused on the back-end web and app functionality and Spitfire's in-house dev team worked on the user interface.
Recent updates have minimised download speeds and the amount of disk space used. The installation process is now much faster.
The result is happy customers who can enjoy their new purchases sooner.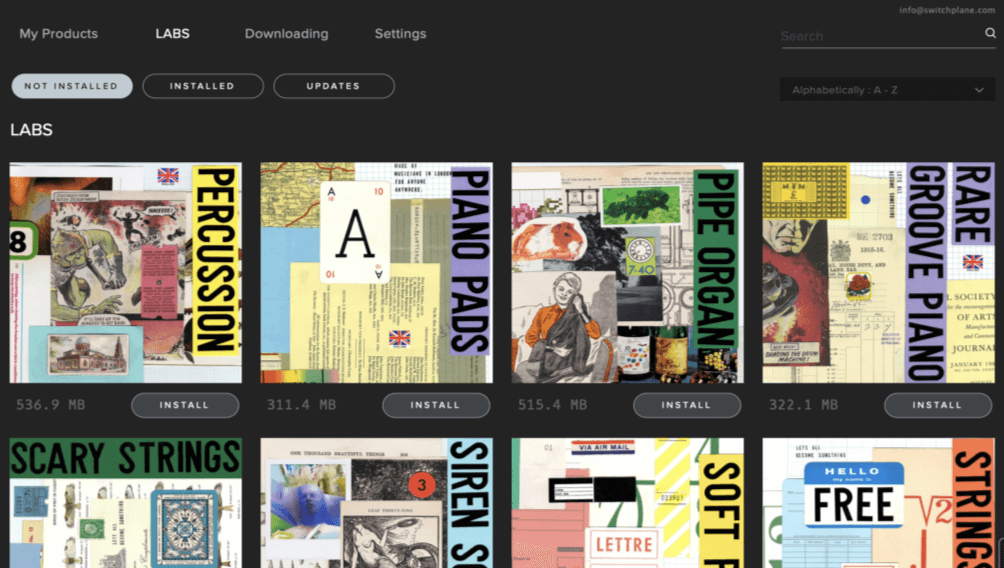 Software for the whole business
A power-up for all the team
We ensure the Development, Marketing and Finance teams achieve their goals by creating whatever they need.
We build tools for the Marketing team to analyse both their sales and the full customer journey. We make our software talk to external systems to help with this.
We provide reports and tools to save time for everyone. Now, Spitfire can focus on what the data means, rather than having to find it in the first place.
Automated accounting workflows
Less time on data entry, more time on what matters
We create tools to save the Finance team's time.
An automated sales ledger. Settlement journals. All batched to import into their accounting platform as part of the end of day process.
And we've worked to integrate country and state VAT rates for GST submissions too.
This means smoother audits, better audit trails, quicker production of management accounts, and more accurate reporting. The team can submit on time, support faster expansion into new territories, and spend more time on strategic matters.
Less abacus, more automation.
A comprehensive e-commerce platform
To save James and his colleagues time
Spitfire Audio has grown since we started working with James. Since reaching a tipping point in their size, they now do some development in-house. They continue to work with us on their infrastructure, cart and downloads app.
It's not only James who wins from our work. Spitfire Audio has full control over the core elements of its business. And the whole team benefits from custom software.
Watch James explain it
In his own words
Now, how can we help you?
Are you like James?
By outsourcing your development work to us, we can help you save time with custom software.