Back to Case Studies
Jen is an NHS dietitian who came to us with a problem shared by all Allied Health Professionals. Continuing Professional Development (CPD) was a nightmare - there were no proper tools to manage it. Jen explained how her colleagues would take time off to prepare for a regulatory audit. She wanted a way to free up her time and get rid of the CPD nightmares from her role.
As Allied Health Professionals, CPD is a regulatory requirement in order to stay registered with the Health and Care Professions Council (HCPC). CPD is any type of learning which increases your knowledge, understanding, and experiences to provide a positive impact on patient care. It includes a huge range of activities, from conferences and webinars to listening to podcasts and mentoring colleagues - so there can be a lot to keep track of.
We helped Jen, and many other AHPs, by creating a web portal and mobile app to manage their CPD.
Mobile app
Web portal
Ecommerce website
What could we do for you?
Before Switchplane...
Jen was like every other Allied Health Professional.
Jen's day-to-day role as a dietitian was great - she loved her job. But hanging over her was the worry of a CPD audit by her regulator. She was collecting random bits of CPD evidence all over the place - on her desk, in her email, on her phone. She dreaded audit selection because producing the CPD report would be stressful. Some of her colleagues had used days of annual leave to put the report together. Jen wanted to be organised and get rid of the stress for good.
Jen had tried other solutions. Paper-based and digital. But nothing was working well for her.
We heard the same stories from other AHPs:
"I've got nowhere to keep my CPD!"
"My CPD ends up scattered all over the place!"
"I forget what CPD I did!"
So Jen got in touch with Switchplane. We built our own SaaS product, Julia Can Help, to support this group of health professionals.
Working with us
We built what Jen wanted.
We worked with Jen, and 50 AHPs from across the country, to understand their top pain points.
We started by making it possible for Jen to record her CPD activities on Julia.
Then, we made it possible for her to reflect on and categorise them. And finally, build that dreaded CPD report for the regulator.
We created a web portal and a mobile app to make it easy for AHPs to save time and add to their CPD records wherever they are.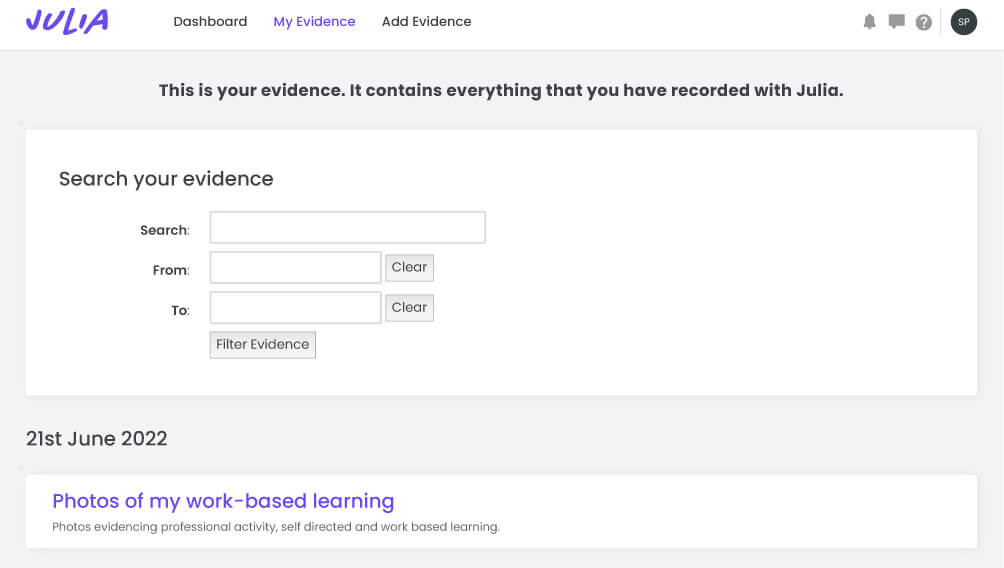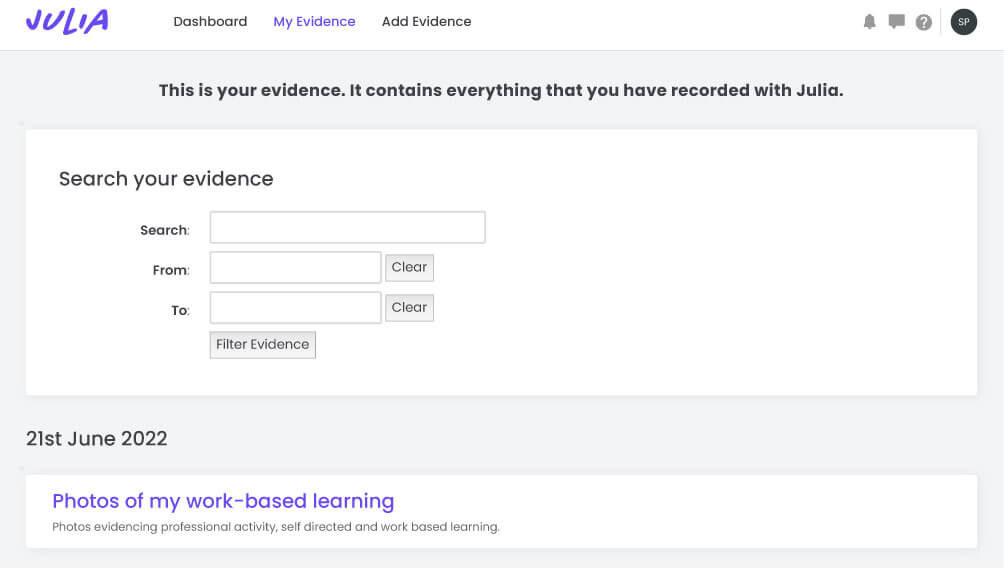 A central web hub for CPD
For desktop workers
We created a Julia portal for AHPs. Users can add evidence of their CPD activity, reflect on it, and create a report suitable for audit. Julia includes references to the regulatory standards throughout.
The portal integrates with Opayo, so users can sign up for monthly or annual subscriptions. Once signed up, users can update profile information, manage subscriptions and add alternative email addresses.
Users can also forward emails from any authorised email address to add CPD evidence to their Julia records.
All the key pain points addressed. Easy for AHPs to use.
On-the-go app for busy healthcare professionals
To make AHP's lives easier
Allied Health Professionals aren't at their desks all day. They're busy seeing patients or are on the road. CPD can include activities like discussions with colleagues. So we made an iOS and Android app which helps them record and reflect on their CPD whilst on the go.
Everything links up with the web portal, so any CPD evidence added via the app is also available on a desktop.
All evidence, stored in one place.
Integrations for customer service and marketing
To ensure Julia customers get the best experience possible
We have integrated Julia with Zendesk and Customer.io. The Julia team can address user queries in one place with Zendesk.
The marketing team can keep in touch with users at relevant times thanks to Customer.io. Integration with this platform ensures users are aware of all features. This makes it easy to send CPD reminder notifications and direct them to suitable CPD content.
In-built reporting also helps the team to spot patterns in user activity. In turn, this guides further development of Julia in the most effective way.
Making it easy to run the business behind the scenes with minimal staff time.
Now, how can we help you?
Are you like Jen?
If you have a problem that you and your staff need to solve, get in touch with Switchplane. We can help you save time.