Custom software: Explained (with cake)
Between mouthfuls, you'll often hear the Switchplane team talking about our love of cake. We love it as much as we love software, if not more. But did you know the two are actually fairly similar? Allow us to explain…
Let's start at the beginning.
How does custom software (and cake) differ from off-the-shelf software (and cake)?
Well, you can have shop-bought, mass-produced chocolate-flavour brownies. You know the ones. A square box with a few bags where you add an egg, but all the work is essentially done for you. Good for a Sunday activity with the kids. They do the job and fill a hole, but are a bit 'meh'.
Alternatively, you can have a made-to-order, multi-layer, jam-packed dark chocolate cake: the cake of your dreams, with all the whipped cream that you want. The kind you order from an artisan baker for your daughter's birthday and reminisce about at every subsequent special occasion.
Switchplane builds software for your business that's like this chocolate cake. It's hand-crafted by our developers in Sussex to meet your company's specific needs. A piece of cake!
Let's take this analogy one step further.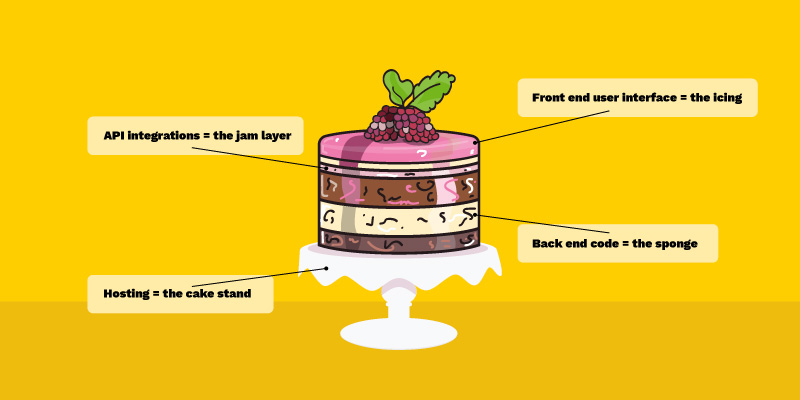 How do software components equate to cake ingredients?
Hosting = the cake stand
You start off with a small software project (which, despite 'the internet' seeming very ethereal, actually needs a hardware platform to run on). Your thin cupcake case does the trick initially. Then you make it bigger and expect the cupcake case to handle more: but, naturally, you'd upgrade to a paper plate. You add a layer and have some cream oozing down the side? Then you need a solid cake stand to hold it all. Simples. Big project, big cake, appropriate hosting to support it.
Back end code = the sponge
It's the main bulk of the work and ultimately what gives you a lot of joy, but once it's all covered in icing, you don't see it. Indeed, it's mostly impossible to show you without a lick of icing!
What goes into a sponge? Butter, eggs, sugar, flour, some choc chips, perhaps. Once they're mixed up together, it's tricky to remove a particular ingredient, but the cake can't exist without them. It's kind of like this with software too. A software project is composed of numerous elements - databases, file storage, third party dependencies, the Switchplane Engine generic components which power all our systems, and client-specific components.
Front end user interface = the icing
This is what the users/cake-eaters see and ultimately what forms your impression of the cake (no matter how yummy it is inside). It's the beautiful, artfully crafted drip frosting, or delicate sugarcraft flowers on the top.
You can spend a lot on icing and getting that appearance spot on, but unless the cake tastes good underneath, you won't buy a second. Equally, your back end code can be superbly moist with a wonderfully fluffy texture, but unless it looks good, no one will want to take it to a picnic.
It's important to get that balance right and make the cake/code as good on the outside as it is on the inside.
API integrations = the jam layer
We can all agree that we can enjoy a cake with simply a sponge and icing. But we can make it just that bit better with some jam in to combine two layers. Here, we're talking about integrations - making one piece of software/sponge combine nicely with another layer of software/sponge. If we can get two things working together nicely, that's always better than just sponge and icing!
In software, perhaps that jam is an integration with your accounting package, Google Calendar, or something like a postcode lookup. Multiple sponges and jam, software and APIs = it just gets better and better.
Project management = the event planner
"Sophie MUST have vanilla bean essence in her sponge, otherwise the party just does not work for her!"
The project management side of things is looking at the bigger picture (as well as often the little details). How does the software fit within your current business? What external factors should the chefs know before putting the recipe together and baking the cake? Do we need to bake the sponge before or after we plan the API jam?
Technical planning = the recipe's designer
In what order should the butter and sugar be added to the mixture? How much is too much flour? How long will it take to bake - and under what conditions? How much time should we spend getting the icing right? When technical planning, we have to make sure we build software in the right order and give the chefs the right information and instructions so they know how to go about their job.
Developers = the chefs
The developers follow a recipe given to them. They're given a rough estimate of how long something will take to bake. They use their own know-how and expertise to cream the butter and sugar together to make the sponge. They add the API jam expertly so the layers blend together seamlessly. They make sure the cake has a good surface on which to start icing. They get the icing thickness just right. Developers often specialise in each of these areas, or sometimes they're great at putting the whole cake together themselves.
Quality control = reaching the pass
In a restaurant, the head pastry chef will check what's going out to their clients once it's baked. Did someone put salt in by mistake? Ok, it'll be sent back for rework. Does it look like it follows the recipe and is the event planner smiling? Great, it can go to the hungry diners.
Sometimes before a party, they'll ask the main client to give the cake a taste to see if it matches their expectations, or ask them to share a small sample with their family to see if it tastes and looks as expected. This is when we might release a software feature onto a staging site for a client, or their team, to test out.
And as for the benefits of custom software, well... do you have a smile on your face after you eat cake?
So, have we gone crazy, or does this help to make sense of things?
Doubtless, we could go further and really stretch this out, but the cake is calling to us…
If you need some software in your life that sounds like a great custom-made cake, drop us a line!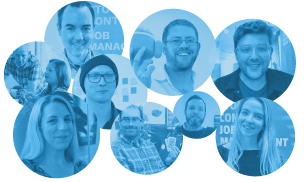 Hey! We are Switchplane and we help businesses save time and money by building them custom software. This can be anything from a job management portal to a complex ecommerce solution. Want to find out more?
About Switchplane